Now, let's return to the fifth day in this example. When the index tracking investors were buying market A and selling market B, other market participants must have been doing the exact opposite. These market participants must have been following a different investment strategy, for instance an arbitrage strategy. Some will call this a pure alpha strategy, but in our alternative model this is pure beta: the index trackers perceive tracking error as a risk – they pay a risk premium to avoid it. And this premium is the source of beta the arbitrageurs are after.
This is an example of a harder-to-capture type of beta. With hindsight it's always clear how much beta was available in a given situation. In this example, the arbitrageur could have sold the spread (selling market A, buying market B) against a six units premium, which would have resulted in a profit of six units after a two-day holding period, as depicted by the dark blue solid curve in Graph 2.
Graph 2 – The negative alpha of an arbitrageur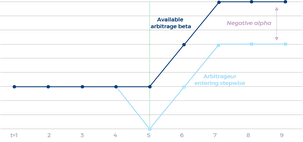 The problem is, how could the arbitrageur have known beforehand that the premium would rise to six units? If he had expected it to rise to say eight units, and had worked the spread order at that level, he would not have found a buyer. In other words, no trade and no profit. If he instead had settled for say a two units premium, he would initially have ended up with a loss of four units at the end of the fifth day. Which means that, in order to ultimately cash in that two units premium, he should have been able to fund an initial loss of four units.
How mispriced can markets get before they turn more rational again? Getting this right is key to effectively and efficiently employing an arbitrage strategy. (Readers familiar with the history of LTCM will appreciate this.) In this example, according to our alternative model, every premium less than six units should be considered negative alpha. In practice, avoiding a large part of such negative alpha seems reasonably impossible, which makes the beta aimed for hard to capture.
Another factor adding to the almost unavoidable inefficiency of such a strategy is that the arbitrageur needs to have funds available when trading opportunities occur. These moments – and the ultimate potential of the opportunities – are hard to predict. The arbitrageur therefore needs to always have a certain amount of funds ready. But unused funds do not generate returns.
The light blue curve in Graph 2 shows the return of an arbitrageur who entered into the spread stepwise by equal amounts during the widening of the spread, reaching his position limit exactly when the spread was at its widest (i.e. selling the spread against an average premium of three units). This implementation is already better than what reasonably can be expected with such a strategy. So, even executed well, the strategy would incur significant negative alpha – three units in this example.